Enhance your employee experience with professional dental service at your workplace.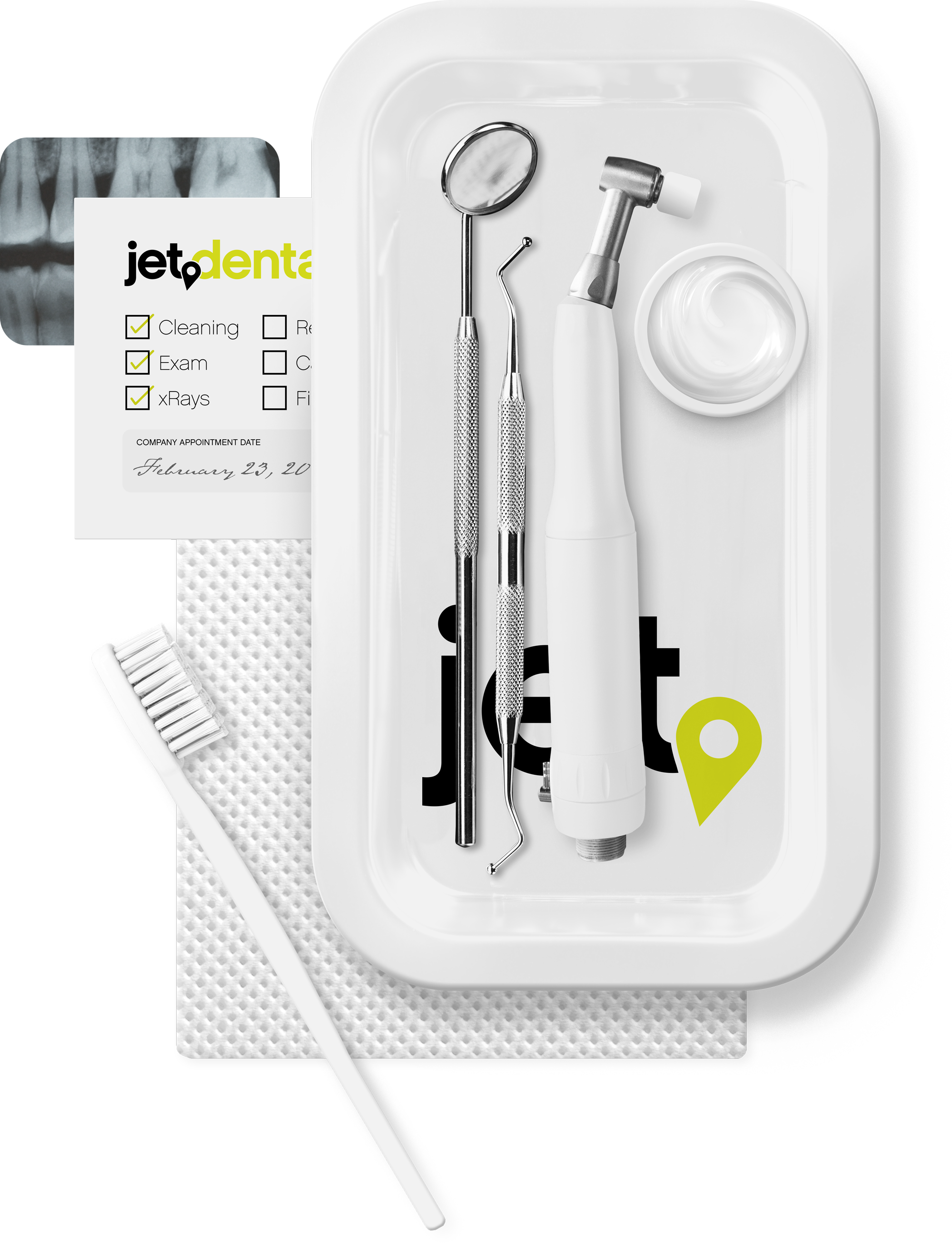 01 A Benefit You Already Offer
Jet Dental is a great no cost service using the dental insurance you already offer to your employees. We simply bill the insurance. Procedures typically covered include a comprehensive exam, x-rays, and cleaning. We also offer fillings, scaling and root plaining and professional teeth whitening onsite.
02 Convenience
We bring our dental team to your workplace, making it more convenient for your employees to utilize the great benefits your company offers, while improving their overall health. Already have a dentist? We work with them!
03 Improve Your Employees Health
Half of adult Americans have gum disease whom are 2x as likely to die from a heart attack, and 3x as likely to have a stroke. Our dentists and hygienists screen for oral cancer. With proper treatment planning, we can improve your employees' health—while providing a more confident smile at the same time.
Hasn't Visited Dentist
Most we see have not been to the dentist in over two years
Have Cavities
Nine out of ten we see have cavities that have yet to be treated
Don't Know Benefits
The majority of insured don't understand preventive dental care is a "free" benefit


"Jet Dental is not only a genius concept, but their execution is flawless. From initial communication to setting appointments to providing excellent service, Jet Dental is a win for both employees and employers!"
ANGELA KAVANAUGH, BENEFITS MANAGER ⁄ ENTRATA
"We surveyed our people after Jet Dental came, and the feedback was overwhelmingly positive. We are excited to have them back."
ALLI STEWART, BENEFITS MANAGER ⁄ INSTRUCTURE
"Our experience with Jet Dental has been frictionless—no additional work for my HR/benefits team, incredibly convenient for employees to receive dental services, easy setup, no contracts, and no up front costs."
PAUL THATCHER, VP HUMAN RESOURCES ⁄ JIVE COMMUNICATIONS
THE JET DENTAL EXPERIENCE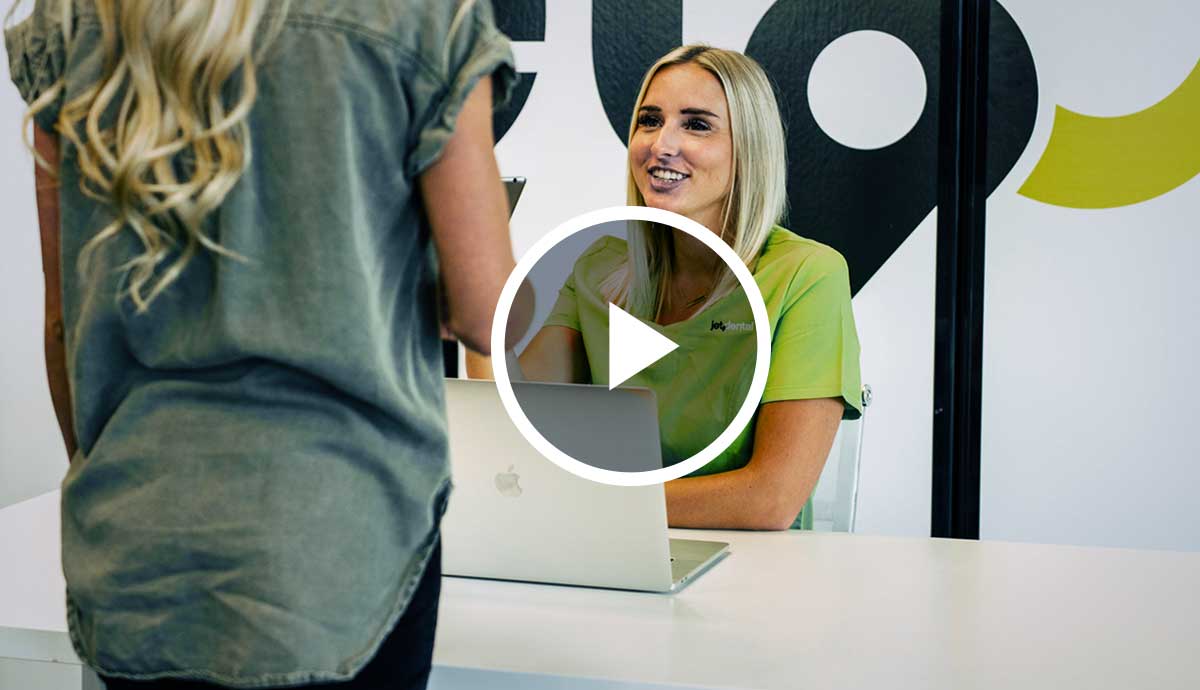 A Turn Key Onsite Service Made Easy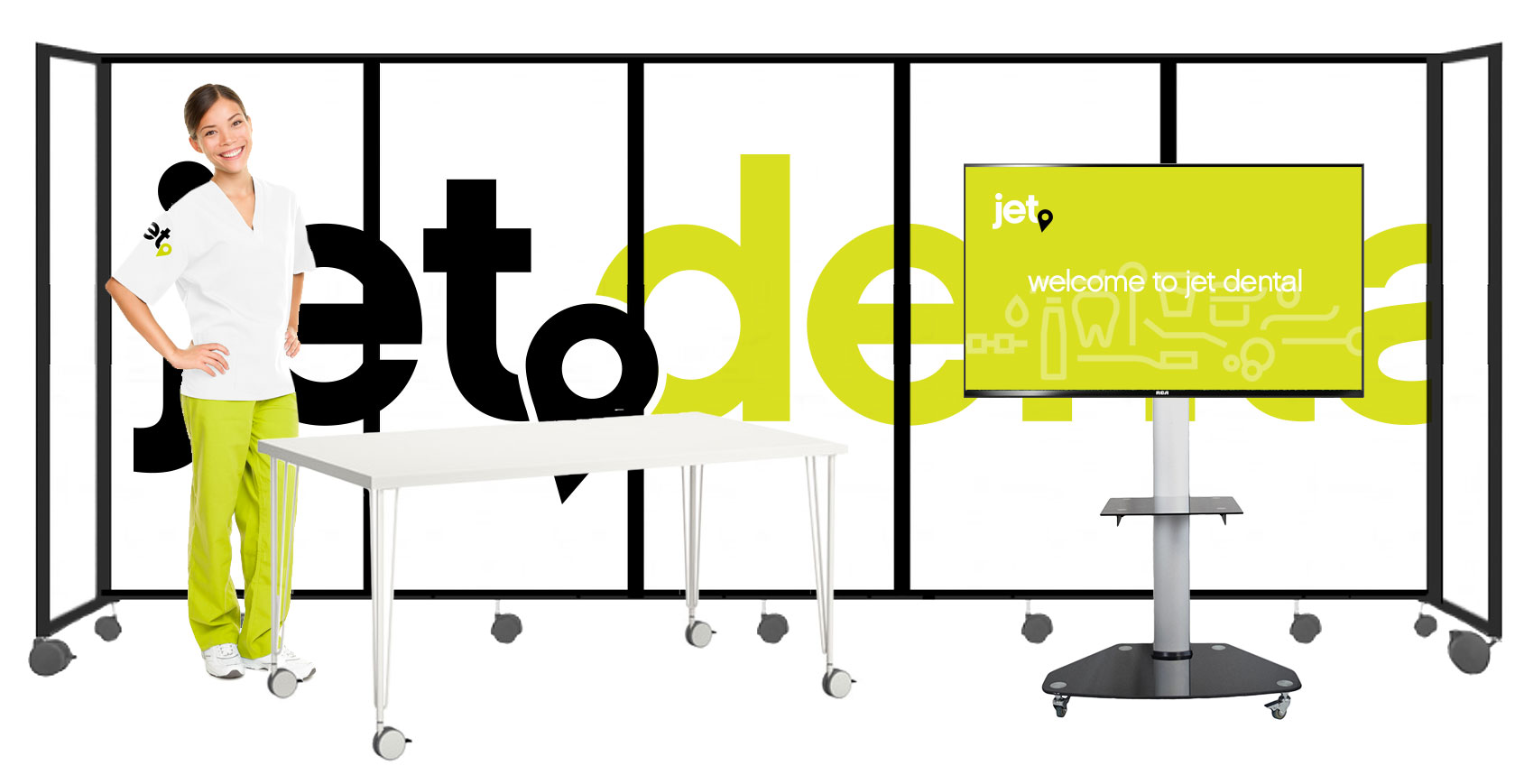 What we need from you: All it takes is one simple phone call to set a suitable date and book an onsite conference room.
What you can expect from us: We initiate all event invitations, employee communication, bookings and confirmation emails. We conveniently bill directly to the dental insurance company at no cost to you or your employees. Jet Dental is completely turn key. Feel free to call us at (801) 870-5198 or contact us by email anytime.
Super Simple Signup & Registration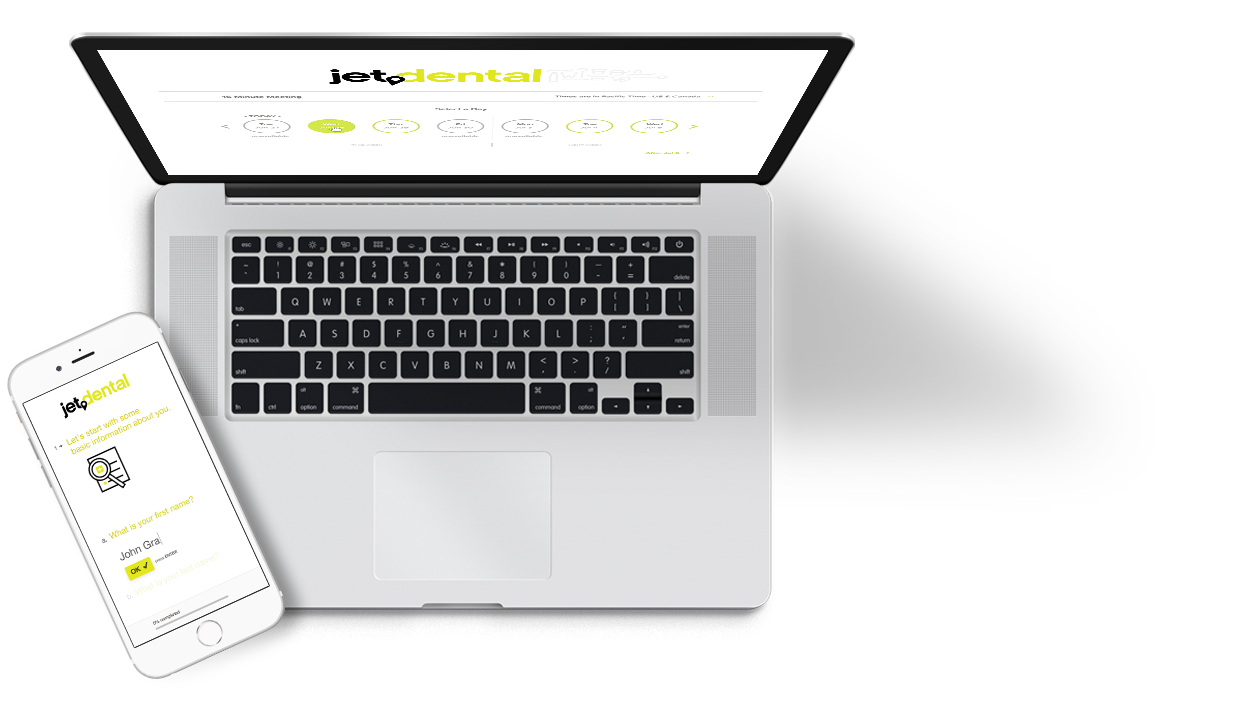 Online Booking System: The Jet Dental online booking system is quick and intuitive—and automatically adds an appointment to the patients own calendar app.
Digital Registration: Our innovative patient registration is personalized to each patient making the "paperwork" as painless as one minute. Every patient receives a reminder email the day before their appointment so all they need to do is show up. Our goal has always been to make every feature of the Jet Dental experience as effortless as possible.
And, We're On Our Way!
The Day of the Event: Our Jet Dental team arrives an hour before the first appointment to assemble our pop-up clinic in a conference room of your choosing. Each appointment typically lasts less than an hour and your employee can be back to their desk without having to leave your workplace.
Restorative Work: We can also provide onsite cavity fillings, scaling and root planing, and corrective services such as Invisalign. If the patient needs a more complex procedure, we can refer them to one of our Jet Dental offices located conveniently near you.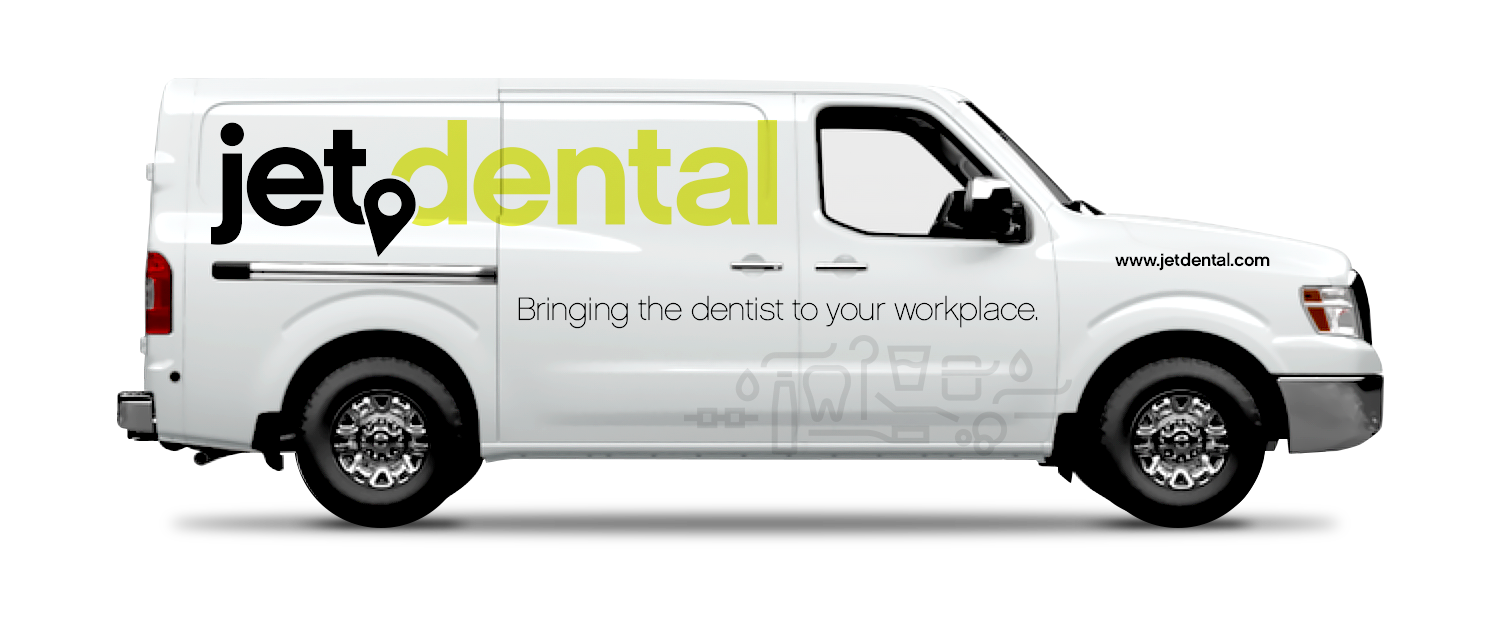 Frequently Asked Questions
How much does it cost?
There is no cost to you or your employees. We bill directly to your already existing dental insurance company. Most insurance policies' include two free exam and cleaning benefits per year.
Do you take dental insurance?
We work with all major dental insurance. We automatically bill the insurance directly so neither you nor your employee have to.
What does dental insurance cover?
Preventative procedures typically covered by dental insurance benefits include a comprehensive exam, x-rays, and cleaning.
What services do you provide onsite?
We provide preventative and restorative care onsite at your company such as cleanings, xRays, exams, fillings, sealants, and cavity treatments. We also provide teeth whitening onsite. More rare and complex procedures can be provided at one of our conveniently located Jet Dental offices near you.
What if I need additional procedures?
If you require more complex procedures such as crown, extraction, or root canal, etc. our world-class team can deliver with our Jet Dental offices located conveniently near you.
Do you provide teeth whitening?
Yes! We provide top-of-class Opalescence system teeth whiting onsite, or you can choose a professional take home kit option. Our cost is drastically discounted compared to a typical dentist office since we are direct to patient.
What if I already have a dentist?
We work with any dentist. We will gladly transfer all exam findings and xRays to your personal dentist office if needed.
How do I set up a Jet Dental pop up clinic at my company?
We would be delighted to speak with you about offering our service to your employees. Please contact us
by email
or call us at
(801) 870-5198
JET DENTAL SUPPORTS HAYES HOPE DENTAL CLINIC
Dental Care. That Cares.
Our own Dr. Nick Lafeber is the founder and director of the Hayes Hope Dental Clinic which provides free dental care to those in need including children and refugees of all ages. For every company we service, Jet Dental will gladly donate the resources to support a family (or individual) in need of dental work.
Our experienced team is where the magic happens.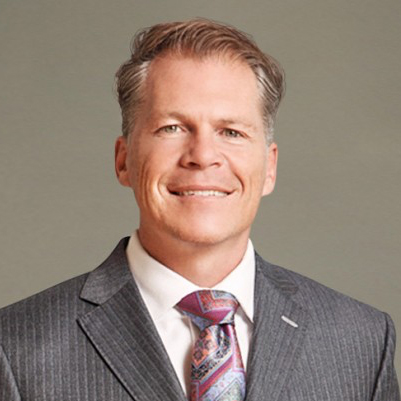 Chairman
As Chairman of Jet Dental, Smith leads a growing company dedicated to improved Oral Health for employees in business' and organizations nationwide. Previously as CEO of Alliance Health, Jeff Smith led a growing company dedicated to helping people with chronic conditions better manage their health through VIP customer care and technology-driven solutions.
Smith lives in Draper, Utah with his wife Sandee and 4 children. An avid outdoorsman and weekend warrior, he loves to surf, ski, hunt, fly-fish, boat and golf.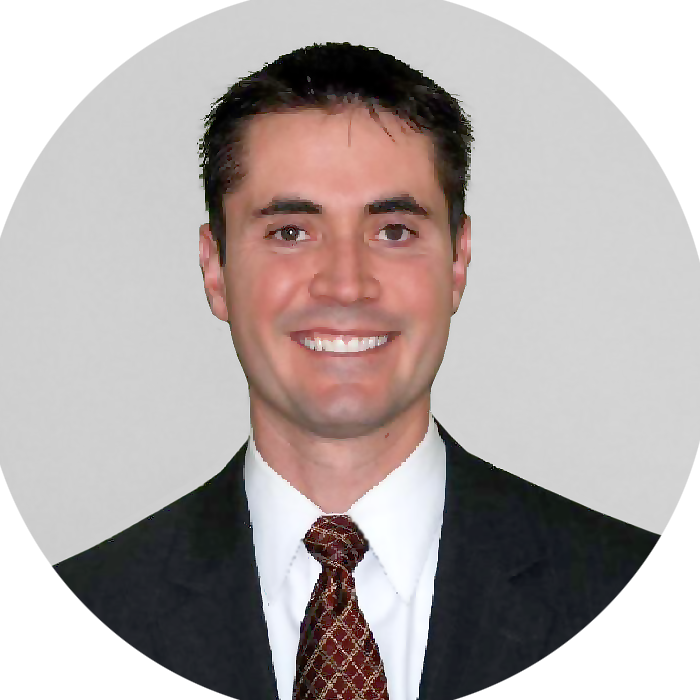 Dentist DDS
Nicholas B. LaFeber is a native to Utah. He has loved returning home to practice after dental school in Florida and private practice in Arizona. He is married to Jennifer and has four children, Kate, Porter, Brandon, and Macy. He and his family love to camp, hike, fish, travel, and the snow. Dr. LaFeber has received extensive training in advanced cosmetic dental procedures such as implant placement and restorations, veneers, LUMINEERS, porcelain crowns, smile design and INVISALIGN. He loves dentistry and interacting with patients. Some of his hobbies include scouting, triathlons, basketball, skiing, running, photography and scuba diving. He and his staff look forward to exceeding your expectations.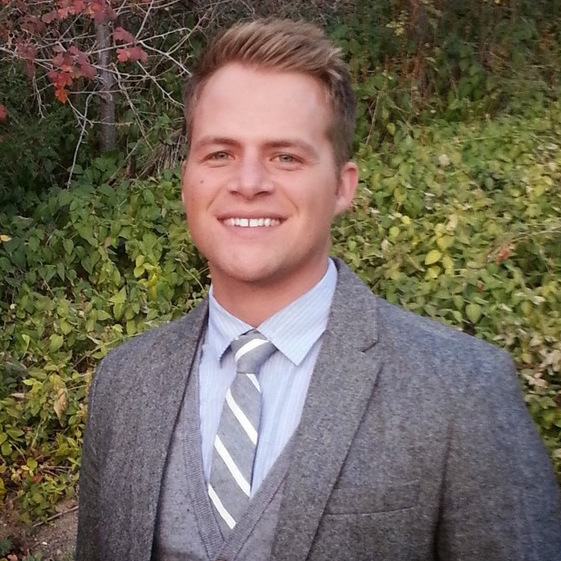 CRO
Jordan Smith is an experienced Chief Retention Officer with a demonstrated history in the healthcare industry and growing call-centers. Before Jet Dental, Jordan led a 400 person sales team with annual sales of $200 Million. In his free-time he enjoys golfing, skiing, good food, and spending time with his family.
Dental Director
Dr. Tholstrom graduated dental school from the University of Colorado. After receiving a commission as an officer in the U.S. Air Force, he completed a post-graduate residency in advanced general dentistry at Langley Air Force base, Virginia. He was later assigned as a member of the 1st Special Operations Medical Group in Florida where he spearheaded a humanitarian deployment to trans-Saharan Africa. His assignment in Florida culminated by being awarded the 1st Special Operations Medical Group's Field Grade Officer of the Year. He was assigned to the 60th Dental Squadron at Travis AFB, California and later deployed in support of Operation Enduring Freedom. Prior to joining Jet Dental, Dr. Tholstrom was the Chief of Dental Services at Royal Air Force Alconbury near Cambridge, England.
Jet Dental was founded on the principle of providing professional dental care with simplicity and convenience. This concept is not new to us. Our team has considerable background taking friction out of the management of health conditions such as diabetes, heart disease, and depression. So too is dental health ready for such an evolution. The Jet Dental experience was relentlessly developed with the consumer in mind. From the email invitation, to the simple online booking, from the effortless digital registration, to the ease of walking from one's desk straight to the onsite workplace clinic—the service is unmatched. Our mission is to provide better dental health as well as a refreshingly convenient experience.
Get in Touch with the Jet Dental Team
Send us a note. We usually respond same day.